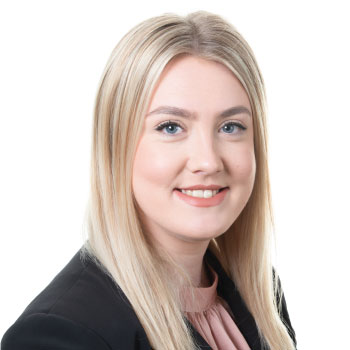 Chartered Legal Executive
Courtney is a Chartered Legal Executive in the Personal Wealth Team. She is experienced at advising clients in the preparation of Wills and setting up Lasting Powers of Attorney. Courtney offers support and guidance whilst administering the estates of family members, including advice on all aspects of inheritance tax and succession planning.
Courtney completed her law degree and Legal Practice Course at the University of Derby. In September 2021, she qualified as a Chartered Legal Executive FCILEX.
Courtney has worked in private client legal services sector since 2014, building up valuable practical experience over the years. She joined Barr Ellison in February 2022.
Courtney Searle's efforts on my behalf were carried out with extraordinary patience, outstanding professional support, and unfailing understanding. Time and again Courtney's detailed response to my never ending list of questions were answered in a timely way. Her clarification of complex issues, without the use of a lot of legal jargon, enabled me to make critical decisions with confidence. I am ever grateful for all her efforts on my behalf.
Michael Ellis
I just wanted to express my gratitude in going above and beyond what I had expected. I instructed Courtney Searle to proceed with urgency with the drafting of a new will for my 97-year-old mother-in-law in the evening of when the office was shut. By 1pm the following day Courtney had met my mother-in-law and taken her revised instructions, met me for a progress update, drafted the new Will and took the final version for signing. I know I said it was urgent but – wow, thank you. Best wishes from a delighted client.
Chris Packer